H
ave you ever got yourself so passionately devoted into a certain activity that you become over-obsessive and then desperately seeking to have it fulfilled?
This predicament/syndrome/scenario* usually casts itself upon individuals who just embarked on the activity. The stages of the desperation-poison set in slowly through this cycle: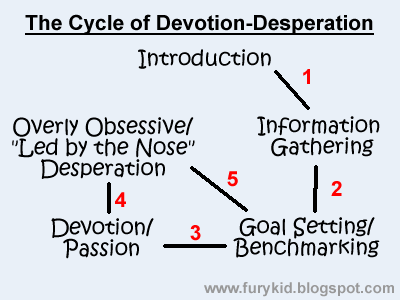 Upon introduction to an activity that intrigues you, you go through the first process of
Information Gathering
so as to feed your curiousity. When you finally collated sufficient information, you will then set certain
benchmarks or standards (2)
when performing the activity. In some cases you might also
set goals
to achieve a desired outcome.
As and when you have committed yourself to the activity, you
devote
(3) your time and effort in it. No obstacles could stop you because you have the
Passion
to complete the process.
Many of us tend to restrict ourselves to achieving such high standards that we over-commit and become
overly obsessive
(4). We are blinded due to the fact that we are so heavily involved to what we are doing that we get led by the nose. After realising that we are sinking in too much, we then rise up and set new goals and standards(5).
However, we would sometimes fall again into the trap and repeat the process of (3) - (5).

Experience prevents the cycle from repeating endlessly. Recently, it took an individual who had 20 years of experience in the trade to enlighten myself.
So How to

Never

Allow Devotion to turn into Desperation?
Referring back to the diagram above,
Step 1
Information gathering should encompass the "failure" component of the activity. For instance, find out the risks involved in investing in a certain industry, or what are the possible fallouts if you were to embark on a business.

Step 2
Goal Setting should not just be positive, but must also include the negatives. Knowing what you want to achieve gives you a high standard. However, there must be limits. State down what you would never do i.e. will not sacrifice family time for soccer.

Step 4
Realise that when you set your goals stating down what you would never do for your activity, you have already set the boundaries. You will thus know when you should stop working on the activity so as to not burn the wick of your candle.

Step 5
Certain adjustments of your goals from time to time are beneficial. This will enable you to know where you have reached, yet giving flexibility and adaptability to different situations.

Sharing with your Loved ones about such situations could also help. They would usually give you the very timely reminders...